The Fringe Bar
Fans: 24 | Already a fan
Whatever you are looking for in a club we have what you want. You can pop in for one of our delicious lunches Wednesday to Friday, where you will be greeted by our friendly staff. Come join us and our DJs celebrate the weekend every Friday afternoon. Out for a big night Fringe Bars two levels will keep you occupied with chill out sessions upstairs till 3am and dance downstairs till 5am. Whatever your style Fringe Bar is the place to be seen.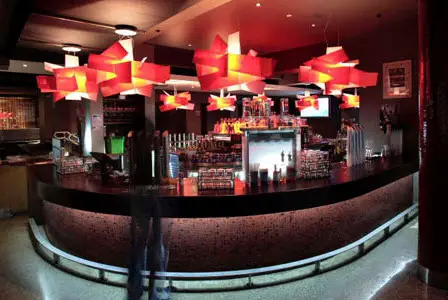 What to Expect @ The Fringe Bar

By Kelly Morphett

It's a Saturday night in the Valley and you are looking a place to meet up with your friends. Then you cannot go past The Fringe Bar, located on the corner of Constance and Anne St in the Fortitude Valley. With the array of popular DJ's and free entry, it's a top spot to rendezvous with your friends.

As you walk through the The Fringe Bar you will be pleased to see that your fellow partygoers are a variety of ages and the atmosphere caters for everyone. From the tiny teeny boppers, to the older, hard to tame party heads. Unlike many clubs, the DJ's at the Fringe Bar are open to requests which contributes to the party atmosphere. From the moment you walk in, you will be bopping and singing to popular tunes.

The bartenders' friendly smile and abundance of enthusiasm helps to make your visit to The Fringe Bar well worth your while. You are served promptly, with style and class, and all while dancing and singing along with the beat. With the crowd pumping and a selection of drinks that is guaranteed to please, The Fringe Bar is becoming a popular night club that will have you returning for more.

Big screens displaying shots from the past patrons also help to bring a sense of party life to this night club scene. The display of friendly party faces flashing before your eyes makes it hard not to embrace the euphoria being created around you.

I would recommend The Fringe Bar to partygoers of all ages. It has function rooms available for bookings that are ideal for all types of functions. Whether you are planning a big night out, or just a few drinks with friends, for a fun night, make sure you don't go past The Fringe Bar.



A 2nd Look @ The Fringe Bar

By Julia Roscoe

Located just a hop, skip and a beat from the Brunswick St Mall, Fringe Bar is a great place to unwind after a long day at work, catch up with friends, or to kick off a big night out in The Valley.

With retro-cool interiors, Fringe Bar bears a similar resemblance to a cocktail lounge, only ten times bigger. There's an abundance of couches and tables, so you'll be able to take a seat and watch the action take place, or if dancing is more your style, the open-space dance floor located at the back of the downstairs bar is roomy enough to bust your best moves. It hardly ever feels too cramped, with all the cleverly placed pillars and semi-walls; but if you want to be a bit further from the crowds you can snap up one of the couch-table set ups in the large open windows that look out onto the street.

There is no age barrier here, nor should you expect any specific "type" of person; think anyone from 18 to 38, suits or jeans and tees. Entry is free, though there is sometimes a line from around 9pm, so to skip the queue you can email through and put your name on the door.

With a huge bar located in the middle, service is usually quick and efficient. There's also a bar upstairs (if it isn't booked for a private function) and up here you'll find pool tables, pokies and a smoking balcony. The bars have seasonal cocktail menus, wines, beers and other beverages aplenty, and an extensive (and yummy) lunch and dinner menu with reasonable prices and generous servings.

If you're looking for a place to have a function, there is no fee for hiring a room at Fringe Bar. You can also book a larger function with catering packages. Functions are either held in a booth or upstairs where you'll have your own bar.

Live local bands play on Friday afternoons, and DJs play from 8pm Friday and Saturday nights. Expect to hear dance and house music on high rotation.

Whatever kind of night you have planned, you'll find Fringe Bar is the perfect place to start. And it's located just far enough down Ann St that you won't be walking straight out into the hustle and bustle of The Valley.

Custom Search